Ms CRM solution in case management process for medical emergencies
The Customer offers 24/7 international medical and travel assistance, equipped with helicopters and small jets landed in Athens for handling any medical emergency.
Our Customer wanted to implement a CRM solution for managing all emergency medical cases and administer his own integrated case management process that facilitates recommended treatment plans and reassures that appropriate medical care and services are provided to ill or injured individuals. The planning and coordination of health care services appropriate to achieve the goal of medical rehabilitation may include:
– Evaluation of one's condition
– Medical transfer or evacuation – Admission to recommended facility
– Treatment progress monitoring
– Medical reports and expert opinions etc.
As iBS went to become the Customer's chosen technological partner, the list of identified challenges grew to include all the following to be addressed by the development team:
– Excelent Business Analytics Skills
– Ease to collaborate with other Development Teams
The key entities under the CRM management module are employees, medication incidents, and accidents. Employees – doctors and medical desk where all communication details are logged and safely stored (emails, calls, docs, diags). Accidents where time is sensitive and the appropriate procedure must be chosen and followed by the patient or and the medical team.
Our Customer evolvement is to ensure that his international and domestic clients have a complete set of solutions to deal with these obstacles always according to the three universal fundamentals of healthcare: Access, Quality and Cost. With Microsoft CRM we implement for each case a customized to our customer's needs cost containment strategy, aiming to provide all needed report for the medical cases and to gain an economic balance for all involved parts.
ASP.NET, Ms Dynamics CRM, Ms SQL Server 2010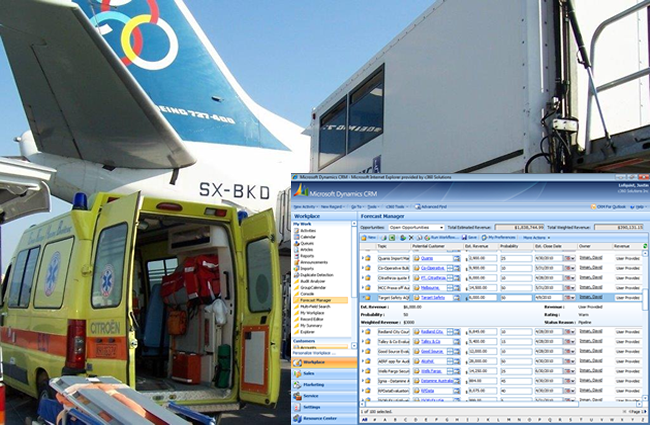 Request a Quote
We will be glad to answer all your questions as well as estimate any project of yours. We will process the request and we will get back to you within one business day to provide a valuable insight.